My Fourth and (probably) final Entry!
This time, the Super Heroine Silk Spectre I from The Watchmen
The Silk Spectre was one of the original 'minutemen' a group of 'costumed heroes'. She was seen as an action-hero pin-up girl and there were villains who didn't mind being caught by her!
The Silk Spectre was a hero in the 40s, and is shown as having classic pin-up style of makeup. I decided to go for this style, but add in the colours of her costume, yellow and black. I wanted a look that was oxymoronically both retro and modern. The look had to be glamourous and not too over-the-top due to her sexy symbol status.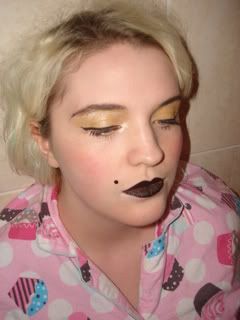 My eyebrows were a bit darker in real life than they look here, the flash made the black pencil look brown.
I used:
Avon personal match Tinted Moisturiser in Light
Dainty Doll Concealer in Fair
Mac Blot Powder in Light
Illamasqua illuminator in Odyssey
Mac Frankly Scarlet Blusher
Too Faced Liquif-Eye Shadow collection (i used Oscar and 1/2 Steel Magnolias)
Rimmel Glam eyes liquid eyeliner in black
Lancome Oscillation Mascara in black
Kryolan Aqua colour in black
Avon brow glimmerstick in Black
and a black rhinestone for a beauty mark.
And i think that's it for now!
Tomorrow i'm travelling back home, after that i'm going to show off all my lovely purchases :)