This time I'm Batman's arch-nemesis, the Joker!
The Joker is usually played as a completely insane psychopath. He has the appearance of a clown, due to falling into a vat of chemicals which bleached his skin, contorting his face into a constant smile and turning his hair green.
My inspiration came from the fact that, until Heath Ledger's amazing performance, the Joker is portrayed as an incredibly dapper man, groomed and polished. So i wanted to make a feminine style which looked groomed, but hinted at something sinister. I also went with his usual colour scheme of green, red and purple.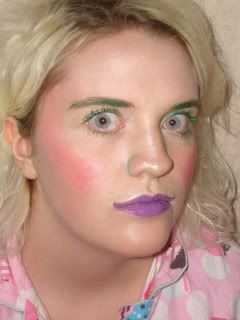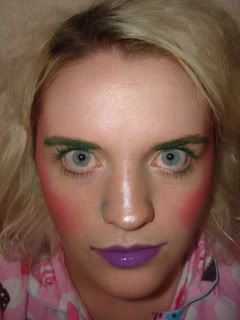 I used Illamasqua Illuminator in Odyssey all over my face to make it pale and shimmering. Then i lightly contoured and lined part of my face with a green eyeshadow from H&M. I used Mac powder blush in Frankly Scarlet, extending it to my temples. I drew a smile over my natural lip shape and filled it in with Illamasqua Intense Lip Gloss in Fierce. I used Opia green glittery eyeliner and Opia green mascara on my lashes and eyebrows.