So here's the first makeup look of mine to be shown in this blog!
I decided it would be a really good starting point for my makeup experiments to enter this competition.
So, here's the villain i took my inspiration from, Batman's enemy Two-Face.
Once Two-Face was Harvey Dent, the DA of Gotham and Batman's Ally. Then he suffered a horrible accident where one side of his face was covered in acid and completely disfigured. He went insane and decided to base his answer to all decisions on the flip of a special two-headed coin (one side is disfigured with a scratch). Two-Face is still able to do good if the coin tells him to, but has no hesitation to do evil if it lands scratched face up.
Originally i was going to try going really over the top, like his makeup in both the Batman films he's appeared in, but then i got thinking about how his face got disfigured: acid. This made me think of some horrible pictures i'd seen where those acid peels people can get to improve their skin has gone wrong. So i decided to base my makeup around a modern, female Two-Face. One side is a pretty, 'everyday' look, the other a terrible, damaged face. Please excuse my very out of character pajamas.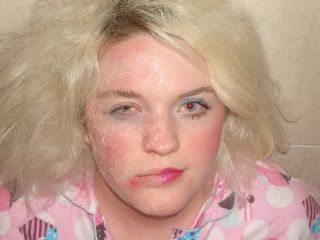 I'm on holiday at the moment, so i'm really limited to what makeup i can wear. Unfortunately i didn't bring my foundation, so i couldn't make the 'pretty' side as groomed looking as i wanted.
On the 'ugly' side i used:
pva glue to create the peeling skin
Mac blush in Frankly Scarlet to create redness over various parts of the skin.
Mac Blot powder in Light
Lancome Oscillation mascara in black (i then pinched the eyelashes together to make them very clumped)
and Too-Faced (how apt!) Liquif-eye shadow collection to make the under eye shadows (i used 3 colours, a greenish brown, a purple and a blue, none of them have names as they are exclusive to the collection)
For the 'pretty' side i used:
Illamasqua illuminator in Odyssey on the brow bone and cheek bone
Dainty Doll Concealer in Fair
Avon Personal March tinted moisturiser in Light
Kryolan blush/eyeshadow (i've forgotten which it is actually meant to be!) in Frambosia as a blush
Mac Dame Edna powder highlighter in Spectacle all over the face
The Too-faced blue and purple eyeshadows again
Mac Eyebrow pencil in Fling
Lancome Oscillation mascara in black
No 17 lipstick in Electric Pearl
Mac Dazzle Glass in Via Veneto
I doubt i'll win, as there are some amazing looks, but it was so much fun! I'm seriously debating entering a whole series of villains now.